LIGHTWEIGHT AND RIGIDITY
The SL1's frame is made of Toray carbon and with the HCIM (Hollow Core Internal Moulding) technology featured in BH's highend frames. The arrangement of the carbon fibres ensures a stiff, lightweight frame that weights 1,050 grams in the medium size.
RESPONSIVE REAR COMPACT STAY
A single piece of carbon that has been designed with specific seat stays that responsively transfer the cyclist's pedalling power. Enables a tyre width clearance of 30 mm.
ABSOLUTE LATERAL STIFFNESS
The bottom bracket box, with the BB386EVO system, has a diameter that is oversized by up to 86 mm increasing the diameter of the lower diagonal tubes by up to 80 mm, which reduces the thickness of the tubes and increases the torsional and rear stiffness.
QUICK LEVERS THAT ARE EASY TO USE
There's no need for tools with the Quick Lever, which is completely hidden and easy to use.
ICR SEMI-INTERNAL CABLING
The new SL1 frame features the ICR system, providing semi-internal cabling for a clean and cable-free frame.
Specifications
Frame
Fork
RS1 Disc Full Integrated Tapeder, Full Carbon 1.5´
Divetrain
Cassete
Shimano Shimano 105 11/34
downloads
EC DECLARATION OF CONFORMITY 2021/22
GENERAL WARRANTY CONDITIONS
Geometry
XS
SM
MD
LA
XL

h1

Seat-Tube Length
470
480
505
540
552

h2

Head-Tube Length
115
120
150
185
195

l1

Top-Tube Length (horizontal)
530
543
557
570
583,3

l2

Chain-Stay Length
402
402
402
402
402

a1

Head-Tube Angle
72,2
72,5
73
73
73,5

a2

Seat-Tube Angle
74,8
74
73
72,5
72,5
Stack
517,16
523,39
549,17
583,18
594,4
Reach
381,57
382,98
383,85
386,13
395,89
BH Bikes Size Fit | Which is my bike size?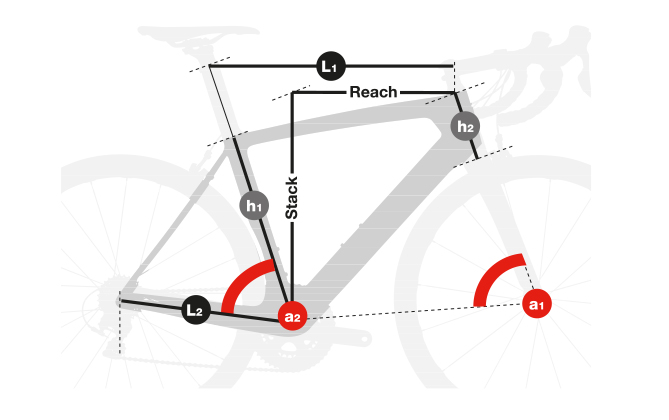 THIS IS WHY WE RIDE
Perseverance. Adversity.Triumph. Defeat. We see it all left on the trail.Their talent determines what they can do. Their motivation determines how much they are willing to do.Their attitude determines how well they do it. This is why we ride.