This is the bike for you if
You are looking for an electric bike with an innovative design, High Performance geometry and great capacity, since it has a 720 Wh battery.
Its unique technology is
Electric bike: Compact High Performance. 3 levels of assistance; Eco 50%, Trail 100% and Boost 280%. Xtep electric bikes incorporate the Shimano E8000 motor with a maximum cadence of 130 rpm and a maximum torque of 70 Nm. The Full Suspension range incorporates the Split Pivot system that allows separate action of the three forces that are applied on a bike: pedalling, braking and suspension.
It's different because
Its patented "X-System", designed with Item Design Works, guarantees maximum stiffness of the frame and its High Performance geometry allows you to obtain maximum performance. Xtep electric bikes incorporate a Smart Key Bracelet and an exclusive App with more than 40 configurable parameters, BT Smart connection and Strava integration.
X SYSTEM
720WH
HIGH PERFORMANCE GEOMETRY
SMART KEY BRACELET
SHIMANO E8000
DISPLAY FIREBOLT
X SYSTEM
The "X System" guarantees maximum frame stiffness. The down tube has a triple extrusion without any type of cutting or CNC that would alter its properties or weaken it.
720WH
Another feature that stands out is its battery, with a capacity of 720 Wh and the new 21700 cells that have the greatest energy density on the market (5 Ah), giving it an autonomy of up to 155 km.
HIGH PERFORMANCE GEOMETRY
The optimal layout of the electrical elements allows frames and bikes to be designed without sacrificing anything and allows a High Performance geometry to be developed.Thanks to the position of the down tube, there is sufficient fork and tyre width clearance for use in Enduro and Aggressive Trail cycling.
SMART KEY BRACELET
The battery protection system incorporates an electronic lock which is activated through the use of a Smart Key Bracelet. This technology is housed within a stylish, sportive and fully waterproof rubber bracelet that includes an identification code specific to each individual bike.
SHIMANO E8000
The Xtep range incorporates the Shimano E8000 motor. It weighs just 2.88 kg and it has an optimal Q factor of 177 mm. The motor was designed so that the distance from the bottom bracket axle to the most rear point of the motor would be the minimum, optimising the length of the chainstays. Shimano have developed a compact and lightweight construction that allows optimal integration in the bike, maintaining the minimum chainstay lengths and applying competition geometries.
DISPLAY FIREBOLT
The Firebolt display features a wide range of assistance settings in order to adapt to your pedalling style.Its compact screen that is easy to read incorporates dynamic images when changing assistance level.You can personalise your assistance set-up by opting for the Dynamic, Explorer or Custom mode, adapting it perfectly to your pedalling style and the terrain.
Specifications
Frame

140 mm Full Suspension Alloy 27,5"+

Rear shock

FOX FLOAT DPS Factory

Fork

FOX 36 FLOAT Performance 150mm 15QR

Stem

BH A-Head

Headset

Tapered

Shift levers

Shimano XT DI2

Rear derailleur

Shimano XT DI2 11sp

Front derailleur

-

Crank set

Shimano 34T

Bb set

-

Cassete

Shimano SLX 11sp (11-46T)

Chain

KMC X11

Front brake

Shimano XT 200mm

Rear brake

Shimano XT 200mm

Wheelset

DT Swiss H1900

Tires

Schwalbe Magic Mary 27,5PLUSx2,8 TR

Hubs

DT Swiss
Spokes

Stainless Steel

Saddle

Fizik Taiga

Seat clamp

Quick Release

Seatpost

Kind Shock ETEN-I

Handlebar

BH MTB Light Alloy Riser 780mm

Grips

Ergon GE10-Factory

Pedals

-

Chainstay protector

Double Integrated

System

X System

Battery

720Wh

Motor

Shimano E8000

Autonomy

Up to 155 Km

Display

Shimano E8000

Upgrade kit (not included)

Light cable

Which is my bike size?
The charts below show our recommended sizes based on height, but there are some other factors, like arm and leg length, that determine a great fit. The best way to find your perfect fit is to consult our BH Bikes Size Fit.
| | | | | |
| --- | --- | --- | --- | --- |
| | sm | md | la | xl |
Geometry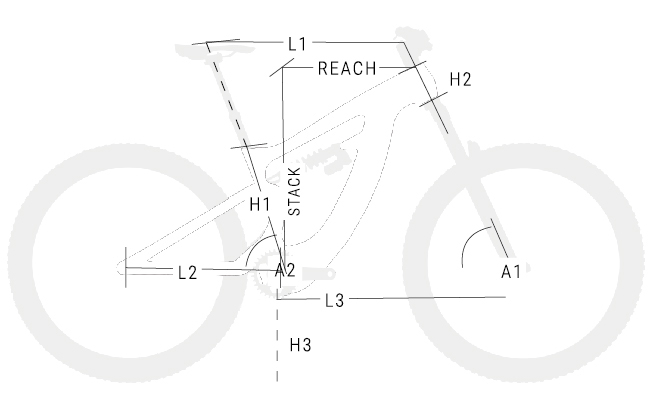 | | | | SM | | MD | | LA | |
| --- | --- | --- | --- | --- | --- | --- | --- | --- |
| h1 | Seat-Tube Length | | 430 | | 450 | | 480 | |
| h2 | Head-Tube Length | | 115 | | 115 | | 125 | |
| l1 | Top-Tube Length (horizontal) | | 587 | | 607 | | 624 | |
| l2 | Chain-Stay Length | | 445 | | 445 | | 445 | |
| l3 | Wheelbase | | 726 | | 736 | | 760 | |
| a1 | Head-Tube Angle | | 67 | | 67 | | 67 | |
| a2 | Seat-Tube Angle | | 75 | | 75 | | 75 | |
| | Stack | | 619 | | 619 | | 629 | |
| | Reach | | 418 | | 428 | | 448 | |
BH Bikes Size Fit | Which is my bike size?
THIS IS WHY WE RIDE
Perseverance. Adversity.Triumph. Defeat. We see it all left on the trail.Their talent determines what they can do. Their motivation determines how much they are willing to do.Their attitude determines how well they do it. This is why we ride.
×
mantenimiento_contenido_popup
✕

Not available
✕

Select size
✕

El sistema de eCommerce de EVO Finance es una aplicación web desarrollada para poder dar servicios de financiación automática en Internet a los clientes con los que se llegue a un acuerdo. Si la solicitud de crédito ha sido preautorizada, el cliente recibe toda la información para formalizar el crédito, la documentación necesaria que tiene que enviar y el contrato en PDF para firmar. Cuando Cetelem recibe la documentación requerida, comprueba que ésta coincide con la información facilitada por el cliente para el estudio de la operación y que el contrato está firmado correctamente en todas sus hojas. Cetelem informará al cliente de que el crédito se ha formalizado.
✕
The BH Bikes Size Fit enables you to determine your ideal frame-size based on your body measurements.
All data must be filled in correctly for a correct result.
I only have the height

Complete all the data to know your exact size
Bike Fitting OK