WHO IS GOING TO STOP YOU?
More kilometres to go further, to new horizons that blur the boundaries you previously knew of the mountain bike and open a whole new world of possibilities to explore with maximum power.
CHALLENGE YOURSELF
A geometry that you can trust when you really need it: when things get tough.
Full control over your bike on descents and in the most technical areas thanks to its longer reach, its highly rigid and responsive rear, its seat post towards the rear and its advanced steering angle.
EVEN MORE STIFF
We have designed the new AtomX to favour the rider, which is why it is even stiffer.
To do so we have oversized the main suspension axle, achieving 20% more torsional stiffness thanks to the self-aligning bearings.
And 79% in the steering tube thanks to the new integrated cover.

BUILT TO RESIST GROUND IMPACT
Ballistic Carbon Layup technology; high modulus fibres with greater ground impact resistance.
And the HCIM- Hollow Core Internal Moulding carbon moulding technique that allows the weight of the frame to be reduced down to 2350 grams, with shock absorber to help push you to your limits.


INCREASE YOUR POWER BY 410%
Very light and compact, with a minimal visual impact and a low centre of gravity which offers no resistance when in no-assistance mode. It is made of magnesium and weighs 2.9 kg, maintaining maximum torque of 90 Nm (90-120 rpm).
The Speed Sensor has been integrated in the dropout to improve the response behaviour of the sensor and therefore avoid vibrations and dirt.

iREMOTE. CONNECT YOUR BIKE
Thanks to the iRemote, you will be able to know the remaining charge level and use the assistance level in a simple and visual way.
Download the BH iConnect app and/or connect your AtomX to a Garmin device.

Specifications
Frame
Frame
100mm Full Suspension Alloy 27,5"+ internal cable routing
Rear shock
Rock Shox Deluxe Debonair
Fork
SR Suntour XCR34 LO 100mm 15QR
Divetrain
Cassete
Shimano CSM7100 12sp (10-51T)
Brakes
Front brake
Shimano MT501 4 Piston 200mm
Rear brake
Shimano MT501 4 Piston 200mm
Wheelset
Tires
Schwalbe Smart Sam 27.5"X2,6
Cockpit
Handlebar
BH MTB Light Alloy Riser 740mm
ACCESSORIES
Lock
iLock + Smart Key Bracelet
Upgrade kit (not included)
ATOMX GPS Tracker

Geometry
MD
LA

h1

Seat-Tube Length
450
480

h2

Head-Tube Length
130
140

l1

Top-Tube Length (horizontal)
590
614

l2

Chain-Stay Length
465
465

l3

Wheelbase
699
724

a1

Head-Tube Angle
69
69

a2

Seat-Tube Angle
74
74
Stack
620
620
Reach
423
444
BH Bikes Size Fit | Which is my bike size?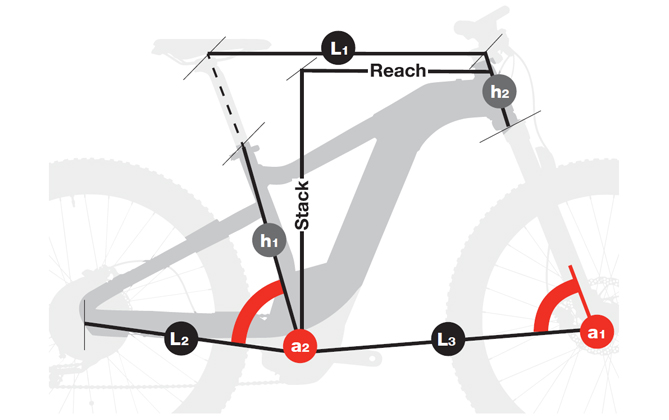 THIS IS WHY WE RIDE
Perseverance. Adversity.Triumph. Defeat. We see it all left on the trail.Their talent determines what they can do. Their motivation determines how much they are willing to do.Their attitude determines how well they do it. This is why we ride.
×
mantenimiento_contenido_popup
✕
Not available
✕
Select size
✕
El sistema de eCommerce de EVO Finance es una aplicación web desarrollada para poder dar servicios de financiación automática en Internet a los clientes con los que se llegue a un acuerdo. Si la solicitud de crédito ha sido preautorizada, el cliente recibe toda la información para formalizar el crédito, la documentación necesaria que tiene que enviar y el contrato en PDF para firmar. Cuando Cetelem recibe la documentación requerida, comprueba que ésta coincide con la información facilitada por el cliente para el estudio de la operación y que el contrato está firmado correctamente en todas sus hojas. Cetelem informará al cliente de que el crédito se ha formalizado.
✕
Which is my bike size?
ENTER THE FOLLOWING DATA
COMPARATOR