TS SYSTEM
The BH Atom range incorporates the BH patented system, Turn & Slide "TS System", with a simple and minimalist integration of the battery in the diagonal tube, at the top, enabling the design and aesthetics of a conventional frame.
MOTOR
The Atom range incorporates a new BH Drive-1E 36 V motor, more compact and lightweight for high performance and maximum power in sports use, with great response behaviour. It has a maximum torque of 80 Nm.
E-TREKKING & E-URBAN
The Atom Urban and Trekking bikes are designed with an ergonomic geometry and include low-pass models for easy access.
X DISPLAY LITE
Its X Display Lite and X Remote are located in the area inside the handlebars for maximum protection.
Specifications
Frame
Frame
Sport Alloy 28" Internal Cable Routing
Divetrain
Cassete
Shimano HG200 8sp (11-32T)
ACCESSORIES
Upgrade kit (not included)
Winter Battery Cover
Light cable

Geometry
SM
MD
LA

h1

Seat-Tube Length
450
500
550

h2

Head-Tube Length
140
145
160

h3

BB Drop
306
306
306

l1

Top-Tube Length (horizontal)
601
629
657

l2

Chain-Stay Length
465
465
465

l3

Wheelbase
695
717
738

a1

Head-Tube Angle
69
69
69

a2

Seat-Tube Angle
74
74
74
Stack
639
643
648
Reach
425
445
465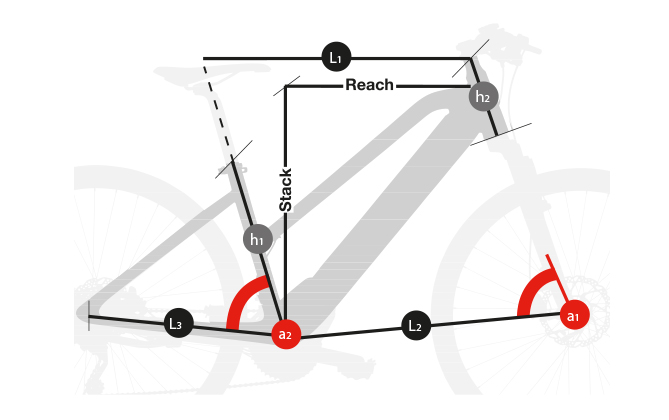 THIS IS WHY WE RIDE
Perseverance. Adversity.Triumph. Defeat. We see it all left on the trail.Their talent determines what they can do. Their motivation determines how much they are willing to do.Their attitude determines how well they do it. This is why we ride.
mucho más
EA412

Shimano Acera 8sp
SR Suntour NEX DS 63mm
BH1E & 500Wh
EA432

Shimano Deore 10sp
SR Suntour NEX HLO 63mm
BH1E & 720Wh
EA522

Shimano Deore 10sp
SR Suntour Mobie 32 NLO 100mm
BH1E & 720Wh
EA452

Shimano Nexus 8sp
SR Suntour NEX HLO 63mm
BH1E & 720Wh
EA532

Shimano Deore 10sp
SR Suntour Mobie 32 NLO 100mm
BH1E & 720Wh
EA802

Shimano Deore 10sp
SR Suntour XCR34 Air 140mm 15QR
BH1E & 500Wh
EA812

Shimano Deore 11sp
Rock Shox Recon RL 150mm 15QR
BH1E & 500Wh
EA822

Shimano Deore 12sp
Rock Shox Recon RL 150mm 15QR
BH1E & 720Wh
EA312

Shimano Acera 8sp
SR Suntour NEX DS 63mm
BH1E & 500Wh
EA473

Shimano Deore 10sp
SR Suntour Mobie 32 NLO 100mm
BH1E & 720Wh