filtrar resultados
1909
BH (Beisteigui Hermanos) is created in Eibar
1935
Gustave Deoloor wins the Vuelta a España
1959
BH moves to to a bigger, more modern factory in Vitoria
1970
BH Fitness is born, dedicated to indoor sports
1986
Alvaro Pino wins the Vuelta a España with the Zor-BH team
2005
BH sponsors the BH Liberty Seguros team
2008
BH launches Easy Motion, its electric bicycle range
2011
Julie Bresset of the BH Suntour team wins the Elite XC World Championships
2011
BH wins the Eurobike Award with its NEO electric bike
BH has been for over a century a synonym of bicycles, cycling, sportsmanship and self-improvement. Many children have given their first and hesitant turn of the pedals with a BH bicycle, and legendary cyclists have also been created on many of these bikes.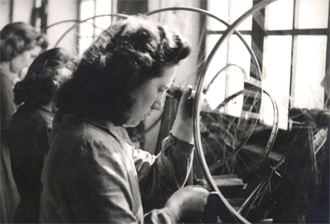 The journey of BH (Beistegui Hermanos) in the industry initiated in Eibar (Guipuzkoa, Spain), a city of arms manufacturers, in 1909 as a result of the genius and enterprising spirit of three brothers: Cosme, Domingo and Juan Beistegui Albistegui.
The company, which was founded as an arms manufacturer, gave a radical 180-degree turn following the First World War, and it set out to provide a fast, comfortable and economic means of transport for the citizens of Eibar. The result was the development of very light, agile and reliable bicycles.
This is how one of the current cycling icons and one of the most successful and consolidated brands was born. From that point onwards and as a result of its technological advances and abiding commitment to sport, BH has achieved a series of sporting triumphs and has contributed with several innovations to the world of cycling.
By 1935, BH was firmly settled in the Spanish cycling scene. The BH team had one of the best cyclists of the day in its ranks, the Belgian Gustave Deloor(1913 - 2002), who won the first two editions of the Vuelta a España in 1935 and 1936. Up to this date, BH has won seven Vueltas a España, the last one in 1986 with Alvaro Pino.In that edition, the team Zor-BH also came first in the team classification.
Fede Etxabeachieved another historical triumph in 198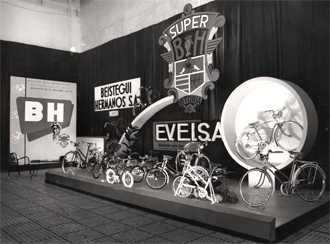 7 by winning the legendary Alpe d'Huez stage of the Tour de France and becoming the first Spanish cyclist to include his name in one of its 21 bends. In more recent times, BH has been the provider of several cycling teams, such as Liberty Seguros or AG2R.
In line with its success in sport, BH also grew and extended the frontiers of its activity.
In 1959, BH moved to a more modern and larger plant in Vitoria, from which it has developed high quality bicycles and components for all cycling disciplines: road, mountain, all terrain, electric and even fitness and elliptical bicycles. The technological innovations developed by BH, such as the NEO range, the Ultralight frames, the Global Concept and the Lynx double suspension for MTBs, has allowed the brand to continue being ahead of its time and offer solutions to the demands made by the two-wheel enthusiasts.
100 years later, the Beisteguifamily are still at the head of BH and continue to maintain the essence of a company that remains true to the values it was founded upon: innovation, research and technological development; social and environmental responsibility; dynamism, commitment, reliability and trustworthiness; and, above all, its passion for bicycles. And all this with the aim of continuing to offer sport and health products to the entire world.